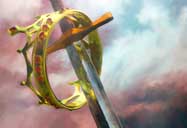 http://sermoncentral.sermonspice.com/videos/4967/warfare--training-for-battle--
Have you ever found yourself arguing about your spiritual beliefs and presenting God's truth in such a way that people assume you are nuts, or, at the very least, a little Kooky?
Me, too.
Especially, right now, while the political battle rages. It's so easy to get caught up attacking those with opposing viewpoints from an emotional standpoint rather than using spiritual weapons to defeat the real enemy and cause of so much division - satan.
Yep. I'm going to blame it on the devil.
After all, he is the father of lies. His goal is to destroy mankind, and what a great way to do it - keep us fighting against each other.
Even Christians are debating amongst themselves and drawing lines. Is this how Christ would have handled the situation? Somehow I don't think so.
I remember when I was a baby Christian (new believer). I was so excited and overwhelmed with the Good News of God's grace that I simply had to share it. I was also pretty threatened by sin. I could easily identify the planks in your eyes and I decided it was my duty to make sure that you were well aware of those planks as well. If you didn't want to hear about them, no problem. I'd point them out anyway, in spite of your protests.
I was fighting the good fight, right? -- Pointing out sin and paving the way for God's truth to reign. No-o-o-o-o-t! (That's "not" all drawn out if you're wondering)
Well, surprisingly (ehem), my method didn't work quite the way I'd hoped. I was running around pointing out problems and looking under every chair (figuratively, or course) for demons and disasters. I was kind of like the little boy in the above video. (Please, go to the link and watch!) I was wasting a ton of time and energy on the wrong things.
Since those early days, I've discovered one very important truth. My battles are best fought (and won) on my knees.
Prayer, without ceasing, is the most powerful weapon we can wield. Add worship, a whole lot of forgiveness, grace, self-control, and peace, in addition to God's truth, and you have the making of a successful strategy for spiritual success that ushers victory, often times, right on in to the physical realm.
I'm not saying that we shouldn't speak the truth boldly, but we often forget who we are fighting. It's not those people who don't share our viewpoints, it's a shrewed and capable creature that would like nothing more than to confuse the issues and keep us focussed on people, places, and processes rather than on the Truth, on God.
Friends, I'm not shaking my finger at anyone, I'm mostly reminding myself of the best way to be victorious in a difficult spiritual, emotional, and physical climate.
I have very strong views about the presidential candidates, but, more importantly, I have very, very strong views about who I really serve -- my Commander and Chief -- Jesus Christ. It is up to me to reign real as His Princess Warrior, representing His Light during dark times.
So, as the next election approaches, let us do the one thing that is sure to change not only minds, but hearts, let's pray. Let's stop karate kicking our co-workers, friends, and neighbors and instead kick the devil's you-know-what from our ultimate battle stance -- our knees in prayer.
Please, if you are committed to praying daily for our nation and its leaders, send me a note. Together we can accomplish much more than we ever could alone. God bless you.