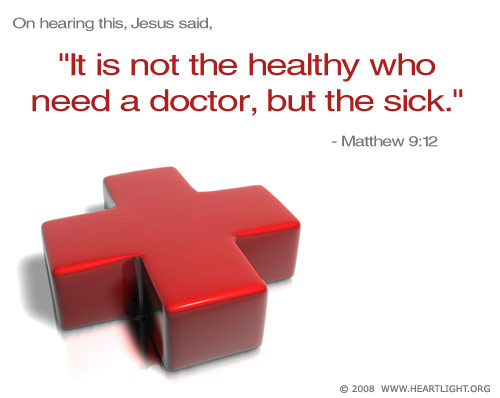 Once at a meeting, some young people were discussing the text, "ye are the salt of the earth." They were suggesting uses of salt, and the meaning. Salt gives flavor to food. It preserves food to keep it from decaying. Then one girl said, salt makes you thirsty. They all got quiet and thought have I ever made anyone thirsty for Jesus?
When I saw this quote, I knew I had to share it.
In this anything-goes day and age, it is very easy to judge others. What helps me, always, is to think about Jesus. He stated that he was here to help those who were "sick." We're to do the same.
There's a lot of wounded people out there that with the right doses of truth and grace can become Warriors for Christ.
I know I spent many years in the trenches of sin and death uncertain how to climb out. If not for Christians that were "salty" I might have been buried beneath the weight of my own sin for, well, forever.
Salt ... that's what we're suppossed to be. Unfortunately, we are more often like sugar or sour grapes.
Sugar in that we are so afraid of offending and remaining "politically correct" we fail to speak the truth. We talk a lot about God's love, but, without the recognition of sin, why would someone choose to follow God? Although God is love, He is not a giant teddy bear in the sky handing out lolipops. He's the Almighty Creator of Heaven and Earth. He is fierce and and fearsome, yet loving.
Sour grapes meaning our frequent negative and judgemental attitudes. Hey, I'm guilty, too! We walk around complaining about life, showing what little faith we have, and then can't understand why people don't want to follow Jesus. Oh, let's not forgot the hypocritical message we send, too.
Friends, the holidays are fast approaching and are a great time to sprinkle the salt around. Let's season things up, shall we? After all, there are some pretty thirsty people out there. We can provide the Ultimate Source that will quench their spiritual thirst for eternity. Amen?!
That's right. Go on! Get salty ... and spread the seasoning this Season. God bless you!